An Honored Tradition in Packaging Excellence.
It's one thing to be recognized for technical innovation and packaging excellence by your peers. It's another to be recognized for outstanding achievement, service, and research and development contributions by your customers. At Cadillac Products Packaging Company we're very proud to have been recognized by both.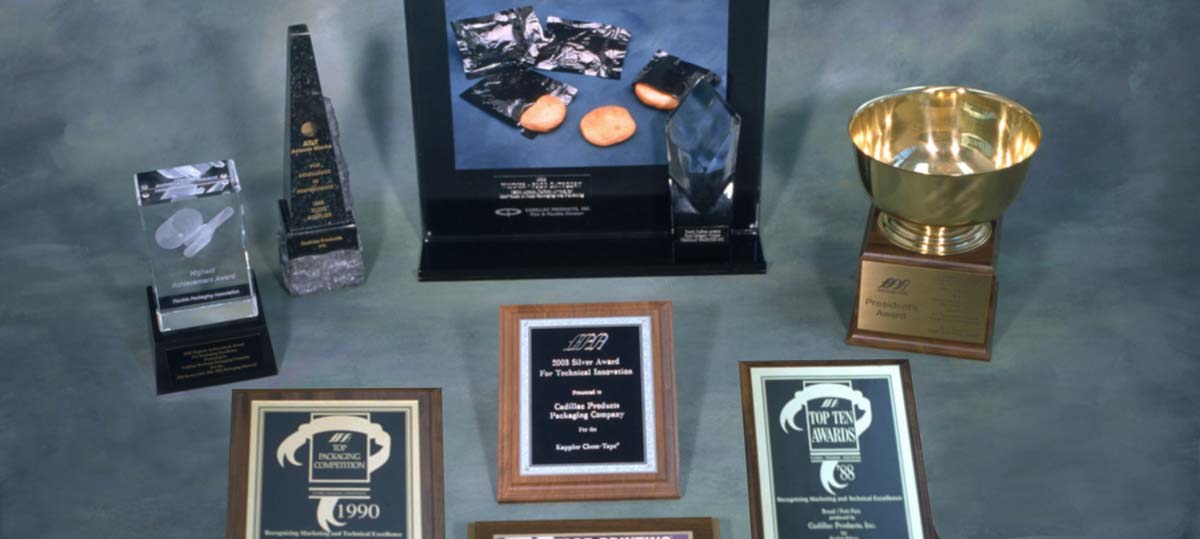 The American Institute of Baking (AIB) recent audit of our facility produced a "superior" rating for the third year in a row. AIB's audit has once again confirmed our commitment to our customers and our dedication to outstanding packaging quality and safety.
Dairy processors of Grade-A milk products are required to purchase milk containers, closures and other types of packaging materials from manufacturers who are certified as meeting the US Food and Drug Administration (FDA) Single-Service Packaging Standards. The FDA Standards are considered to be the most comprehensive standards in the world, pertaining to the hygienic manufacture of food packaging materials. Cadillac Products Packaging Company has again been certified as compliant with these standards.
Since 1942 we have been committed to staying in the forefront of quality, service and innovation. Our success and prosperity is dependent upon our customer's success. If along the way we're honored for outstanding products and services that's a bonus. In the end, our ultimate rewards are the trust and loyalty shown by our customers.
2014 R&DA Elite Support Award
2010 AIB Superior Rating (2008-2010)
2010 IMS Certification (2008-2010)
2008 Packaging Digest Design Trends – Biodegradable Packaging
2008 R&DA Certificate of Commendation
2007 R&DA Platinum Support Award
2007 R&DA Exceptional Quality and Service Award
2004 R&DA President's Award for Outstanding Achievement in Flexible Packaging
2004 R&DA Hall of Fame Award for Outstanding Service
2003 FPA Silver Award for Technical Innovation
2002 R&DA Outstanding Research and Development Contributions
2000 FPA Highest Achievement Award
2000 R&DA Outstanding R&DContributions
1996 FPA Top Packaging Award
1996 Dupont Winner – Food category – Innovation in Food Packaging & Processing
1994 Dupont Winner – Technology Category – Innovation in Packaging Technology
1993 FPA Top Packaging Award
1992 R&DA Outstanding R&D Contributions
1991 PP&C Flexible Packaging Converter of the Year
1990 FPA Top Packaging Award
1988 FPA Top Packaging Award